Elevate Your Workspace: Wooden Desk Shelf vs. Hexcal Studio
Introduction:
Optimizing our limited desk space while maintaining easy access to essential items is crucial for productivity and creativity. When it comes to tackling this challenge, two popular solutions stand out: the traditional wooden desk shelf and the revolutionary Hexcal Studio. In this blog, we will explore the differences between these options and shed light on why Hexcal Studio emerges as the ultimate choice for an elevated workspace.
The Advantages of Desk Shelves:
Desk shelves are a classic go-to for enhancing storage and organization on your desk. Available in various sizes and materials (usually walnut, oak or other kinds of wood), they provide a raised platform for keeping items like books, documents, and decorative pieces. The main benefits of using desk shelves include:
Space Optimization: Efficiently using vertical space, desk shelves keep your desk clutter-free while placing essential items within easy reach.
Convenience: With items placed on a desk shelf, access becomes a breeze, reducing the time spent searching for materials and streamlining your workflow.
Aesthetic Appeal: Many desk shelves come with stylish designs, enabling you to personalize your workspace with creativity and flair.

Cost-Effective: Traditional desk shelves offer a budget-friendly solution for those seeking additional storage without hefty investments.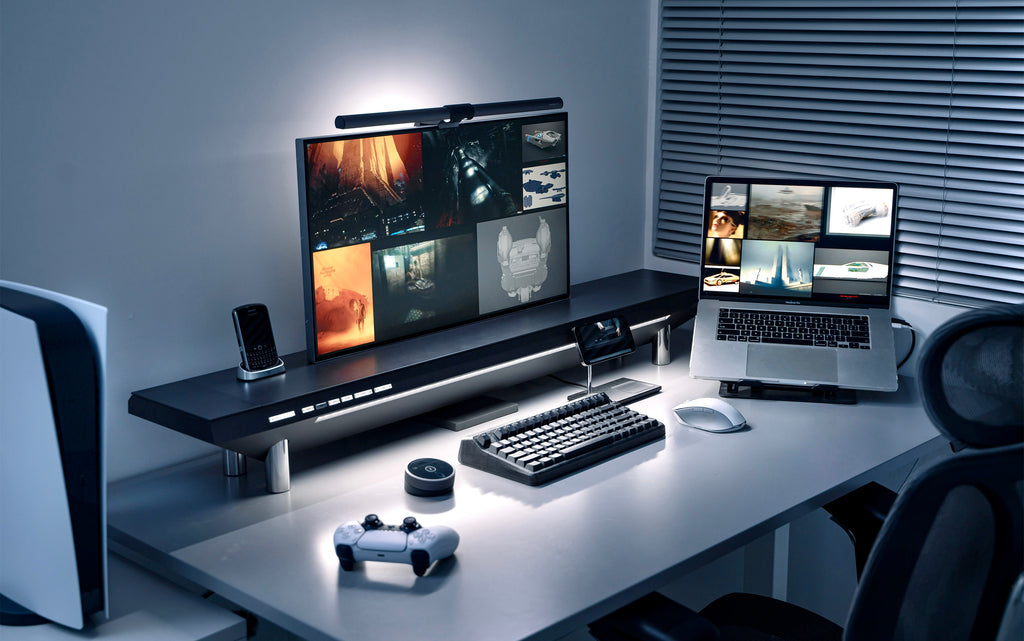 While desk shelves offer practicality, Hexcal Studio takes workspace optimization to unparalleled heights. Here's why Hexcal Studio stands out as the ultimate choice for an elevated and efficient workspace:
Versatile Design: Hexcal Studio is more than just a desk shelf. It integrates innovative features such as adjustable height, built-in cable management, expansion ports, and reliable power outlets, providing multiple functions in one compact unit.

Optimized Space: Designed with efficiency in mind, Hexcal Studio ensures you can fit all your essential devices and accessories on one platform without cluttering your desk.

Durability and Endurance: Crafted with premium quality materials, Hexcal Studio guarantees long-lasting reliability, outperforming traditional desk shelves that may wear out over time.

Ergonomic Excellence: Hexcal Studio's adjustable height feature allows you to position your monitor at eye level, promoting better posture and reducing strain on your neck and eyes. This ergonomic advantage contributes to a healthier and more comfortable work experience.

Seamless Cable Management: Hexcal Studio's integrated cable management system keeps all your cables organized and concealed, creating a clean and professional workspace without cable clutter.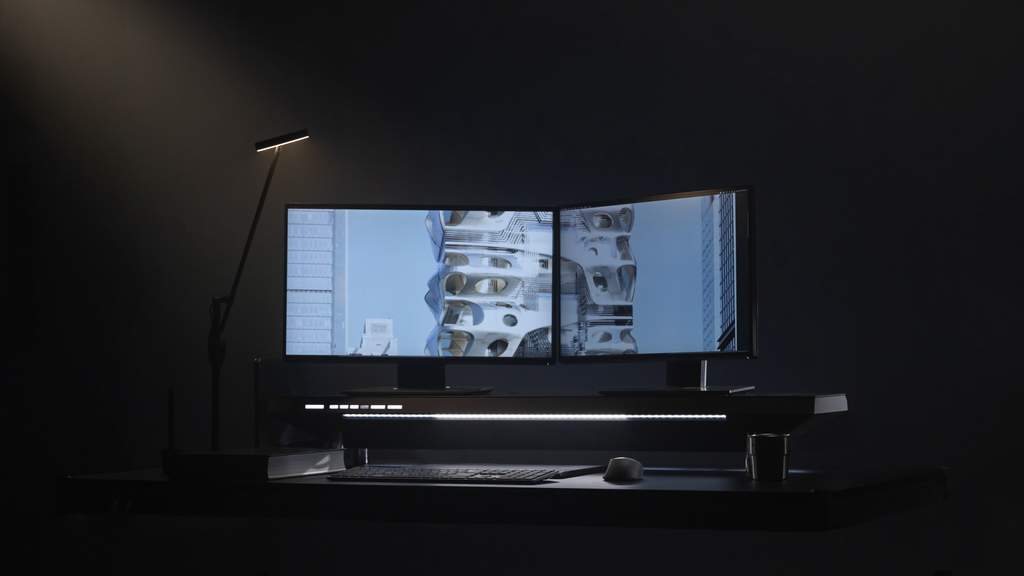 While both desk shelves and Hexcal Studio have their unique advantages in organizing your workspace, Hexcal Studio undoubtedly sets a new standard with its multifunctional design, space efficiency, durability, and ergonomic benefits. If you aim to elevate your workspace and optimize productivity, Hexcal Studio is the ultimate choice for creating a clutter-free and efficient environment that fuels creativity and success.
Reference: