How To Select A Desk Mat: Finding The Perfect Balance Of Price And Quality
Introduction:
Desk mats are an essential accessories for any workspace, providing a comfortable and practical surface for your keyboard, mouse, and other gadgets. In this blog post, we will compare desk mats of different price ranges, exploring their features, benefits, and helping you find the perfect balance between affordability and quality.
Considerations When Choosing a Desk Mat:
Size: Ensure the desk mat fits your workspace and accommodates your keyboard, mouse, and other accessories comfortably.

Material: Consider the durability, texture, and ease of cleaning based on your preferences and usage.

Features: Decide on the specific features you value, such as water resistance, anti-slip design, or extra cushioning for ergonomic purpose.

Aesthetics: Choose a design or color that complements your workspace and personal style.
Budget-Friendly Desk Mats ($10-30)
Budget-friendly desk mats are an excellent choice for individuals seeking basic desk protection without spending too much on office supplies. These mats prioritize affordability and basic functionality while they may not come with nice appearance or comfortable materials.
Most of them are crafted from synthetic materials like PVC or polyester. These materials provide a smooth surface that allows your mouse to glide effortlessly, enhancing your overall computing experience. Additionally, they act as a barrier between your desk and your mouse, protecting the surface from scratches, scuffs, and spills.
One of the significant advantages of budget-friendly desk mats is their ease of maintenance. Synthetic materials are generally easy to clean and maintain, requiring only a quick wipe-down with a damp cloth or mild cleaning solution. This convenience ensures that your desk mat remains in good condition without much effort.
While budget-friendly mats provide basic desk protection, their lifespan may be shorter compared to more expensive mats. The synthetic materials used may show signs of wear and tear, such as fraying edges or surface degradation, after a few months of use. This limited durability means you may need to replace them more frequently, leading to additional costs in the long run.
Furthermore, cheaper mats may not provide adequate grip or stability on your desk surface. This can result in the mat sliding or moving around during use, which can be frustrating and disruptive to your workflow. It may require frequent adjustments or even adhesive solutions to keep the mat in place.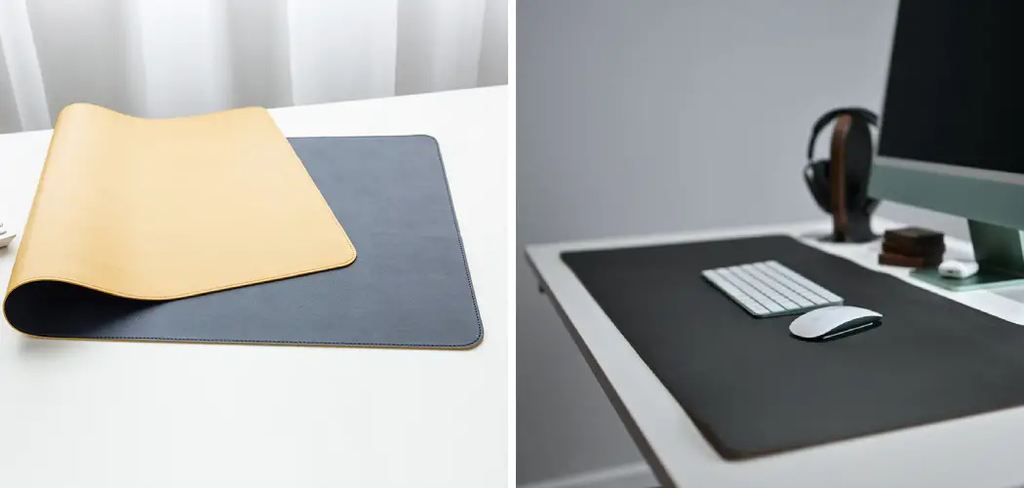 Budget-friendly desk mat offers basic functionality and desk aesthetic
Mid-Range Desk Mats ($40-80)
Mid-range desk mats offer a compelling option for individuals seeking an upgrade in quality and features at a suitable price. These mats strike a balance between affordability and improved durability, making them a practical choice for most people looking for long-lasting desk protection.
Usability is another area where mid-range desk mats excel. Many models incorporate anti-slip bases, providing a stable and secure surface for your mouse and keyboard. This prevents the mat from sliding or shifting during intense movements, allowing you to work or play games with precision and confidence. Additionally, some mid-range mats offer water resistance, making them easier to clean and providing added protection against spills and accidents.
While mid-range mats may not offer the same level of advanced features as premium options, they provide a significant upgrade in terms of durability, functionality, and aesthetics compared to budget-friendly mats. Their combination of affordability and improved quality makes them an attractive choice for individuals who want a reliable and long-lasting desk mat without stretching their budget too far.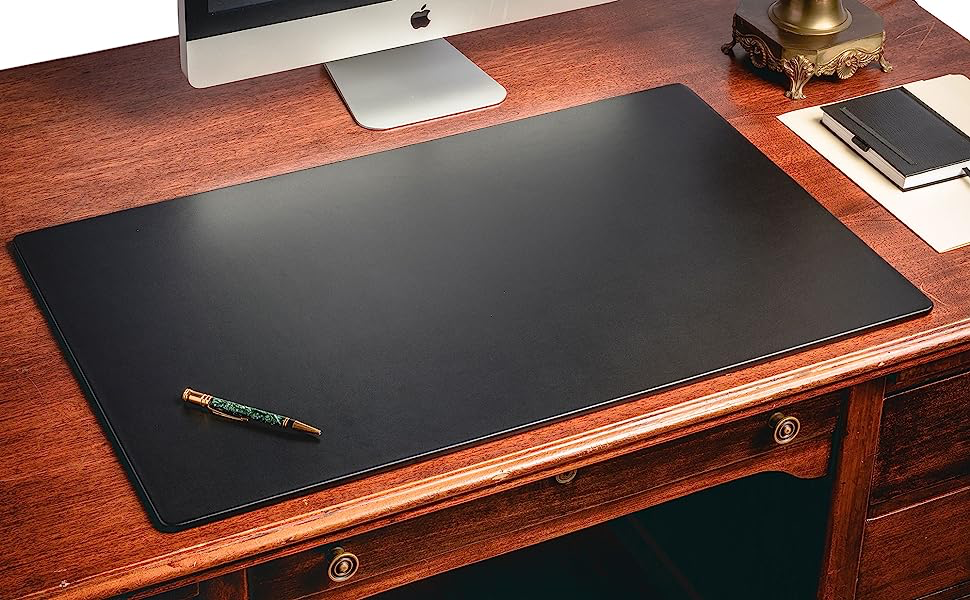 Mid-range desk mat usually comes with a good quality
Premium Desk Mats ($100+)
At the higher end of the price spectrum, premium desk mats not only stand out in functionality and durability but also showcase exquisite craftsmanship and stunning aesthetics. These mats are meticulously designed with attention to detail, ensuring that every aspect contributes to their overall appeal.
One such feature is anti-fatigue cushioning, which provides support and reduces strain on your wrists and elbows during extended work or gaming sessions. This feature promotes better ergonomics, allowing you to work or play comfortably for longer periods.
Additionally, premium desk mats often have larger size options, offering ample space to accommodate your keyboard, mouse, and other essential devices. The generous size ensures that your mat covers a significant portion of your workspace, providing enhanced protection for your desk surface and allowing for seamless movement and organization.
Investing in a premium desk mat is an investment in both the aesthetics and functionality of your workspace, providing a superior desk experience that is worth every penny. These mats offer a perfect combination of style, comfort, and durability, making them a smart choice for individuals who do not want to frequently replace office supplies and want to elevate their desk setup to the next level.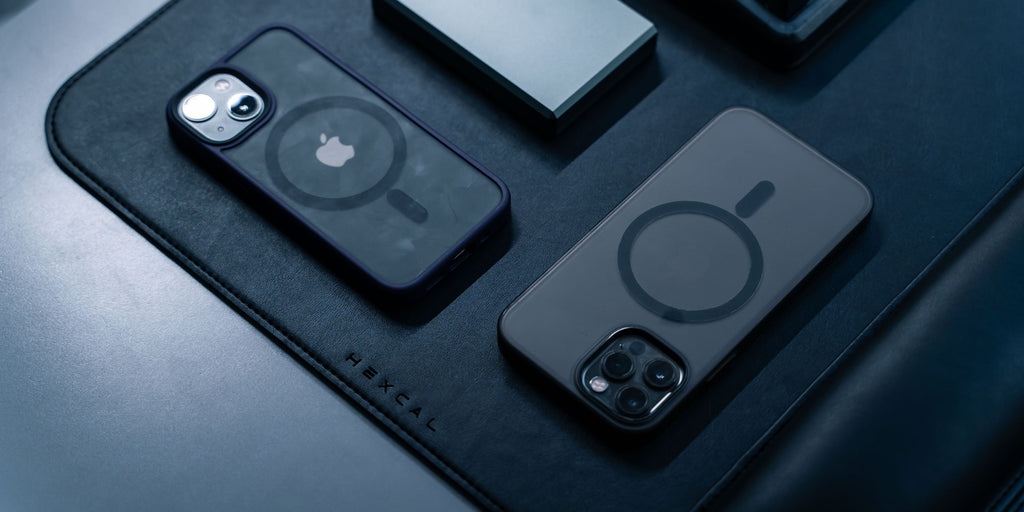 Premium desk mat is a good investment in the long term
Conclusion
When it comes to desk mats, striking a balance between price and quality is essential. Budget-friendly options provide a simple and functional solution, while mid-range mats offer improved durability.
For those seeking the highest quality and comfort, premium desk mats deliver a superior experience. Budget-friendly options provide adequate protection for shorter periods, while premium mats offer long-lasting durability. Invest in a desk mat that matches your usage needs to enjoy a comfortable and organized workspace for years. Also a well-cushioned and supportive surface can reduce strain on your wrists and palms, preventing discomfort and fatigue. Prioritizing comfort when selecting a desk mat can greatly enhance your overall productivity and well-being in the workspace.
Consider your budget, requirements, and personal preferences when selecting a desk mat that fits your workspace and enhances your overall productivity and comfort. Remember, finding the right desk mat is an investment in both the aesthetics and functionality of your workspace.